My friend Michele is someone I rely on to explain things to me.

When I was 8 months pregnant with The Mayor it was she who took me aside and explained the possibility of post partum hemorrhoids (in incredible detail) and how one would treat such an affliction.

[My friend Elke's husband also tried to explain this to me and because of his use of particularly powerful analogy I will never again eat a fingerling potato.]

When The Mayor was born, Michele was the person who tied an "It's A Boy" balloon to my mailbox and brought me a gift bag full of Tucks Medicated Pads and Preparation H.

In times of stress, only a true friend will deliver a bag full of soothing butt medication.

Michele had no way of knowing that three years later I would apply her butt medication to my face.

She came over the other day and sat me on the couch.


"We have to talk about your face," she said. "Do you have any concealer?"
"What is concealer?" I asked.

[I had to look up the correct spelling of "concealer" on the internet.]

Michele rolled her eyes.


"What about moisturizer?" she asked.


"What about it? I put it on all over after I swim." I said.


"Not moisturizer for your ass, moisturizer for your face."


"I don't use any," I told her.


"WHAT??!!" She yelled. "What do you mean you don't use moisturizer?! You HAVE to use it. What is wrong with you?"

"What are you talking about? You're speaking in tongues!"


"Jessica. Concealer will hide the bags under your eyes and moisturizer… well you just have to use that." She told me.


"Why," I whined. "Why do I have to use it?"
Michele's mouth hung open. Incredulous, she said,



"Because you are forty, friend. One word: wrinkles."
She volunteered to take me to the mall to find the right concealer. She even promised to buy me my first… tube? tub? vat? (What does it look like, anyway?)
Throwing a monkey wrench in the whole complicated process, Michele then suggested that I use the concealer and follow it up with

tinted

moisturizer with sunscreen in it.
Tinted?
I suppose next I will have to have myself detailed. Souped up.

Forty Year Old Car Looks Twenty Again!

My friend Elke, alerted to Michele's difficulty in
correctly
training me in the ways of middle aged beauty secrets, chimed in,
"All a woman has is her skin."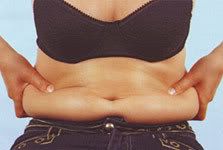 What?
[You can't have my liver. I'm using it.]


I am so confused.

Where is the line between health and beauty?
***********
***********
***********
***********
***********

Yesterday Ms. Kaos left me a comment saying,


"

I am so happy for you that you now have a photo of K in that [ranger] hat to paste into things..."

Me too, friend.



Dance, Ranger! Dance!

***********
***********
***********
***********
***********
Signs your butt is massive
by KC at
Where's My Cape
was so funny that I had to give it an ROFL award.




Next month it's your turn to spread the love...

To nominate someone for an ROFL Award, send
Chicky Chicky Baby
or Metro Mama
an e-mail and they'll put you on the mailing list and let you know when to send in a link to the post you liked.

You can read all the ROFL posts for this month at
Chicky Chicky Baby
and Metro Mama
.