A few weeks ago Flutter and I were having a little e-mail exchange and she dared me to answer her interview questions.

DANG!

Here goes...

1) One of the most endearing things about reading your blog, is your obvious love affair with your husband. What are the pieces that glue your relationship together?

I'm glad it's so obvious that I am in love with him because I am. He is extra yummy.

Let's see. Glue?

When we first started dating… Wait, I can't start like that.

Since our relationship started as an affair, it's never had an official start date –- at least not one that felt celebratory.

The start of our relationship can only be remembered as this muddle of secrecy, wrong doing and torture.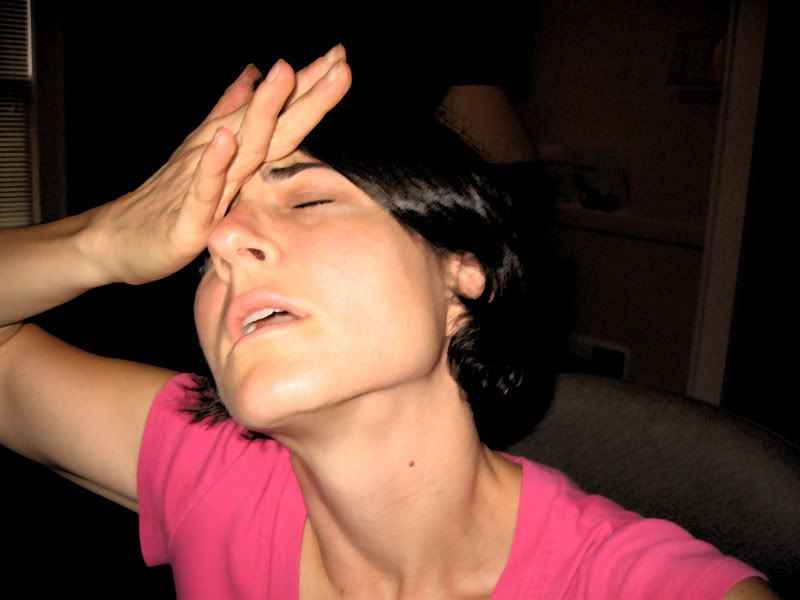 Anyway, somewhere in there, when our relationship became legitimate, we had the usual angst based on
miscommunication
and
misunderstanding
.
In those times K would scare the CRAP out of me by saying,
"Jessica, I need to

check in with you

about something."
Oh. My. Got!! What did I DO?
What?
I feared that comment.

[Insert music from the Friday the 13th movie. Ree ree ree!]

I took the whole "check in with you" thing to mean,
"WRONG DOER! YOU MUST BE PUNISHED."
Time and again, what followed was usually something like,
"When you said, [

that

] I understood it to mean [

this

] and my feelings were really hurt. I wanted to check in with you to find out if you meant [

this

] or something else."
[Insert deer in headlights. Make sure the deer looks like me.]
Having just come out of a marriage where disagreements were handled by some combination of saying caustically vile, sarcastic things and / or engaging in wars of silence that lasted days at a time this approach was wholly new to me.
He wanted to "check in with me" BEFORE getting angry? What? What?
Over time (and hours of relationship processing conversations) I grew to understand this checking in thing as giving each other the benefit of the doubt.


This practice is a big part of the glue that holds our relationship together because i
t serves as preventative medicine against hurt feelings and hurt pride.
[Though it does require me to own my thoughtless remarks and apologize for them without even a

trace

of a good argument. Jeez!]
Other things that I would call the glue...
The way that I believe in him, his potential and the very person he is,
Our unparalleled love for The Mayor and The Rooster, and

2) Your kids are hilarious, so are you. What role does humor play in your family, and do you think it is important?
This blog is 100% serious. I have no idea what you are talking about.

[Insert rainbows, unicorns, Papa Smurf and a paragraph about how laughter is the best medicine, etc.]



3) You are 16, describe yourself.




Slutty, ho bag with no tact.
"

Like

a virgin, wheeeeeeeee!"

4) The Mayor has fallen in love with 2 animals at the shelter and you have to choose one. Quick! Giant, sofa eating rabbit or a ferret with chronic gas, and why?
Pssssssshhhhh, easy - - sofa eating rabbit. If the rabbit eats the sofa, I can sit on the rabbit. Besides, I produce enough gas for our house already.
5) Above all else, what is the one thing you hope for your children?



That they operate at a lower decibel level. That they grow up to be close friends.