Before I picked up The Mayor and The Rooster, I stopped by the library for another arm load of award winning children's books in an effort to keep the Repetitive Reading Stress Disorder at bay.

["Clifford is a big, red, doggggabub bub bub bub..."]

One of the books I picked up was The Man Who Walked Between the Towers by Mordecai Gerstein which tells the true story of Phillipe Petit's 1974 tight rope walk between the World Trade Center Towers.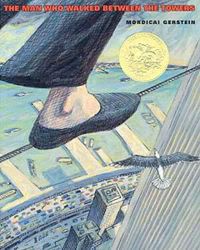 Having grown up in New York, K remembers this happening.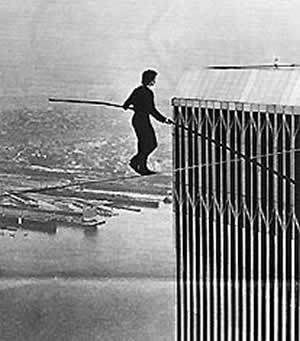 The Mayor was completely stimulated by
Petit's
story, but he was disturbed by the ending.
The second to last page shows an illustration of the New York skyline without the towers and simply reads,
"Now the towers are gone."
The Mayor became distressed.
"Why? Why are they gone, Mommy?" he asked in a wavering voice.
((How am I going to explain this one?? I wondered.))
I told him that airplanes crashed into the towers and that the buildings caught fire and burned to the ground.
(I thought that was taking it far enough for a three year old.)
His brow wrinkled and his fingertips brushed against the picture of the sky where the towers should have been.
I lost him to his thoughts for a moment.
"Mommy," he asked, "did this happen when I was still a dream?"
"Yes, Mayor."
"Why was I just a dream then?"
"Before you were born you were part of the sky. You were made of wind and rain and sunshine," I told him.


A smile spread slowly across his face.
"Do you know what would happen if I kept my sunshine up in the rain?"
"What?" I asked.
"A rainbow!"
According to the Talmud, an angel teaches an unborn baby all the wisdom of the universe.
Just before birth the angel touches the baby between the upper lip and the nose and the child forgets all that was taught.
The angel's touch keeps the secrets of heaven safe and leaves
the groove
we wear above our upper lips.
I like that idea... but I don't always believe the baby forgets everything right away.
Surely it must take some time to forget all that redemption.