For years the people of the land endured the tedious ramblings of the wicked cowboy....

And maybe it happened because (according to Kelly) there have been storms in Oklahoma...

[or was it Nebraska?... or Kansas? ... or maybe Iowa...]

I can't say for sure.

I only know that a storm blew through The House of Joy and...

Oh, The NOOOOOOOOOOOOOOOOOOEEESSS!


A linen cabinet crushed that cowboy!


When the people of the land saw that the cowboy was dead there was a great rejoicing!


Ding Dong, The Cowboy's Dead!
The people were happy he was dead because the cowboy would drone on incessantly, saying things like,


"Howdy, Pardner!"

"There's a snake in my boot!"

"You're my favorite deputy!"

and

"If we don't succeed, we run the risk of failure."

The perp, who is a minor, was a bit remorseful about the whole thing.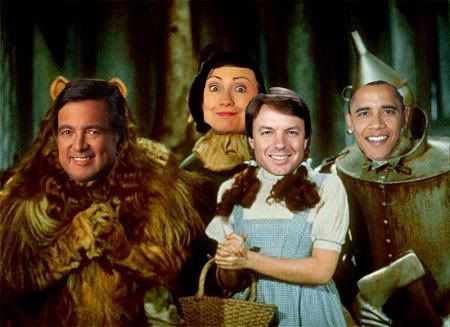 *******DISCLAIMER*******


Hey. This is

not

a political blog.

This, friends, is an

idiotic

blog.


Last night,
after The Mayor and The Rooster went to bed, K noticed Woody the Cowboy's gruesome fate and I recorded it for posterity.

Then K went to the living room to watch

The Lives of Others

which I had already seen.

This post is what happens when I am left alone with my blogger account, nothing to write about, my photoshop program and access to the internet.

I will say that if I had to pick a candidate tomorrow, I wouldn't be able to do it.

Perhaps a little national unity is just the thing we need... after all, there is no place like home, right?


***********************************
Best comment of the day goes to... Zellmer.


[Hilare!]