Come to the dark side, Luke!" K said, channeling James Earl Jones.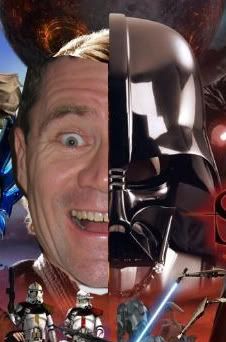 "Don't listen to him, Luke!" I urged.

Organizing his own entertainment for the morning commute, The Mayor assigned the role of Darth Vader to K and the role of Red Darth Vader to me.

[You haven't heard of Red Darth Vader? Me neither.]




Black Darth Vader urged Luke (a.k.a. The Mayor) to become evil while Red Darth Vader encouraged him to resist and remain true to the Jedi.


"It's much harder to be good," Red Darth Vader reminded Luke.



The Mayor weighed his options and PLAYED the two adult Vaders.



[Who were, perhaps, a little too into the game. What's that about?!!]

While K and I play-debated the virtues of good vs. evil, The Rooster quietly ate dry breakfast cereal in her car seat.

Just as we were dropping K at the commuter rail station she piped up and, in her most sweet and innocent voice, said...


"Mommy and Daddy, I am on the dark side."

Hearing my baby girl swear allegiance to the dark side sent a chill down my spine.

Note to self: Devise a plan to move The Family Joy to a remote sheep farm in New Zealand.




**************




In other news, after a long vacation at the bottom of my pants drawer, a pair of jeans that I found at the thrift store last year came out for wear yesterday.

I hadn't worn them in such a long time that I had forgotten the truth.

Some low-rise pants are too low for this mama.

I had no place to tuck the Sharpei when I sat down and had to let that wrinkly dog sleep in my lap all day.

In the afternoon, when I received a porno

-spam

message in my blog e-mail offering me "fire and ice in my pants," I yelled,


"Sorry! No room!!"



Note to self

: Super low rise jeans are
nothing more than extra tall knee-socks masquerading as pants.

**************



Lastly, thanks so much to everyone who left a note for my friend yesterday.

So many of the comments made me well up with tears.

I'm always touched by the way women who have crossed the bridge to motherhood turn back with such tenderness and reach out to support those just beginning the journey.


Thank you for that.