My friends Her Bad Mother, Mrs. Chicky, and Mrs. Chicken are about to learn that one plus one equals much more than two when we're talking about short and loud people children.

I'm proud to honor their transition from pseudo-sanity to total and utter madness as part of their virtual baby shower by contributing my useless two cents hard earned wisdom.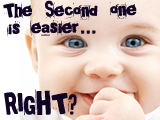 House of Joy Rules for
Surviving the Transition from One to Two Children


Neither parent is allowed to leave the other alone with both children until the second child is eighteen months old.


[Don't. Leave. Me. Alone. Noooooooooo!]


The "three-second rule" automatically switches to the five-ten-fifteen minute rule.


[Whatever it takes, sister. Think, "Go little immune system, GO!]


The greatest threat to the new baby in the house is the other baby in the house. Set your personal auto play button to the word "NO!" and be prepared to keep it playing on repeat.


Sigh a lot.


Using your sarcastic voice, say things like this to your husband,
"Oh, the effing JOYS!"

and


"We're LIVIN' THE DREAM, BABY!!"

See if you can convince Grandma to come for the weekend... and then sneak out to a bed and breakfast!

[Thank you, Grandma Seattle!-- When can you come again?]


C
,
T
, and
A
, I'm thinking of you three and w
ishing each of you a safe delivery and a beautiful start to this new phase of your lives.
Much love,
OTJ